Breeding Standards

As a member of the Golden Retriever Club of America, I abide by the GRCA Code of Ethics when it comes to breeding practices. "Generally, a Golden Retriever is not physically and mentally mature until the age of 2 years; an individual dog's suitability as a breeding animal is difficult to assess until that time" (GRCA Code of Ethics).
Parents should be at least 2 years old at the time of breeding.
Parents should be thoroughly screened before being bred. This includes:

HIP: OFA Hip Certificate (over 24 mos of age)
ELBOW: OFA Elbow Certificate (over 24 mos of age)
HEART: Board Certified Heart Clearances (after 12 mos of age; the OFA no. should be followed by a "/C" to show that the clearance was performed by a Board Certified Cardiologist)

EYE: Board Certified Eye Clearances (within 12 mos before breeding & every year after breeding)
PEDIGREE: 5 generation pedigree/test breeding to ensure an acceptable COI (coefficient of inbreeding)
DNA TESTS: prcd-PRA, GR-PRA1, GR-PRA2, DM, ichthyosis (optional)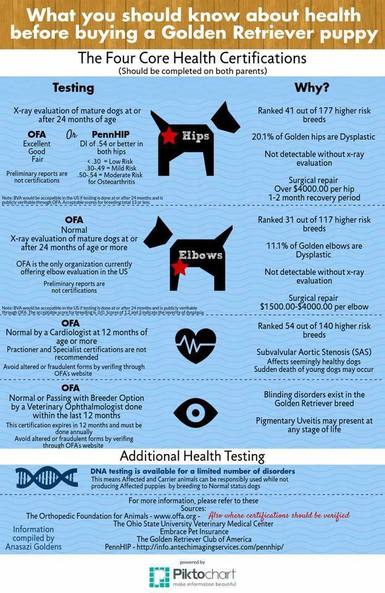 Considerations

While considerations should be given to diseases and conditions that commonly affect golden retrievers, it is important to remember that no dog is genetically perfect and breeding decisions must balance many factors. It is imperative that breeders maintain a rich and diverse gene pool so that the long-term health of the breed is a priority. The GRCA suggests that breeders give the highest health priority to selection against heritable disorders that SIGNIFICANTLY DECREASE THE QUALITY OF LIFE and that have the GREATEST LIKELIHOOD FOR IMPROVEMENT THROUGH CAREFUL BREEDING DECISIONS. Our motivation is our love for our dogs and the breed and we make decisions in a manner that places the best interests of the dogs and the breed at the forefront.
Recessive Genetic Traits

Here is a rundown of how recessive genes work and how the status of parents affect the status of offspring:

Normal to normal parents = all normal offspring (this is ideal)
Normal to carrier parents = 1/2 normal and 1/2 carrier offspring (this is ideal)
Carrier to carrier parents = 1/4 normal; 1/2 carrier; & 1/4 affected offspring (this is usually undesirable unless other factors warrant the risk)
Carrier to affected parents = 1/2 carrier & 1/2 affected offspring (this is undesirable unless other factors warrant the risk)
Affected to affected parents = all affected offspring (this should be avoided)
Progressive Retinal Atrophy (prcd-PRA, GR-PRA1, GR-PRA2)

Progressive Retinal Atrophy (prcd-PRA, GR-PRA1)
Progressive retinal atrophy is a group of genetic diseases that cause progressive, irreversible damage to the retina.

prcd-PRA (progressive rod-cone degeneration) is the most common type of PRA and is found in over 20 breeds of dog. prcd-PRA affected dogs initially lose night vision. This is followed by a gradual loss of vision in bright light and then, over time, complete blindness is likely. This disease can usually be observed during an exam by the time the dogs are 4-6 years of age. prcd-PRA is inherited as a recessive trait, which means that a disease gene must be inherited from EACH parent in order to cause disease in an offspring. A disease gene can be found in either a "carrier" or an "affected" but there is no disease gene in an "unaffected" (aka normal or clear). In order to avoid this disease, both parents should have been tested and at least one should be considered "normal/clear". Optigen states that the risk of prcd disease is extremely low when parents are either clear-clear or clear-carrier.

GR-PRA1 is a mutation that causes PRA in the golden retriever. Current statistics indicate that the disease is primarily a concern in European lines of goldens. GR-PRA1 is similar but unrelated to prcd. It is inherited in an autosomal recessive manner, which means that the disease will occur only if 2 copies of the mutation are present. Carriers of one copy of the mutation do not show disease. As long as at least one parent is normal/clear, then no affected offspring will be produced.

GR-PRA2 is a mutation that started being tested in the latter part of 2012. There have been issues with the reliability of results (presumably the result of it being such a new test).

It is important to remember that there are limits to DNA tests. Not all PRA is the form currently detectable. A dog can test as normal or carrier, yet be affected by a different type of PRA. The OptiGen prcd test can be done reliably at any age (even in young pups, and the result will be the same at any age).
Ichthyosis

Ichthyosis is a skin disease that is known to affect many golden retrievers. Physical symptoms in a genetically affected dog can be varying degrees of skin flaking (dandruff). It is a cosmetic condition and the dog is completely unaware of the symptoms (it does not itch). DNA tests can be performed to determine if a dog is "genetically affected" (aka affected), a "carrier", or "clear" (aka normal or unaffected). The ideal use of DNA tests is to prevent producing affected puppies, while at the same time maintaining genetic diversity and gradually decreasing the prevalence of the disease gene(s) in the breed. We have researched this condition extensively after deciding on adding Django to our family as both of his parents were "carriers" and that was a red flag for me as I knew little about this disease. Django (as well as all of his litter mates) was tested as a pup and it was determined that he was also a "carrier". Simply speaking, being a carrier means nothing but caution should be had in selecting a breeding mate to avoid producing affected puppies. If a carrier is bred to a clear dog, there is a 50% chance that a producing pup will be a carrier but no pup will be genetically affected. If a carrier is bred to another carrier, there is a 50% chance that a producing pup will be a carrier and a 25% chance that a producing pup will be genetically affected. It is also worth noting that just because a dog is genetically affected, doesn't mean that the dog will have any physical symptoms.

Since this condition does not affect the quality of life of the dog and it is a fact that the gene pool of "field" bred goldens is already significantly small compared to other lines, it is important to not be overly concerned about the genetic status of ichthyosis. When ichthyosis testing became available, many field golden retrievers were tested and it was estimated that approximately 80% of the field goldens are affected or carriers. Since it is a condition that can now be tested for, it is important to be cautious of its existence without being hysterical.
Helpful Links

K9 Data - www.k9data.com
(an open database for golden retrievers and labs - user furnished information but a great reference tool.)
OFA Database - www.offa.org
(database containing genetic and health clearance information - not always complete but a good starting point.) This is also where you will find applications for various health clearances.
OptiGen - www.optigen.com
(popular genetic service provider who provides DNA testing and canine inheritable disease information.)
CHIC - www.caninehealthinfo.org
(centralized canine health database; sponsored by OFA. In order for data to be included in CHIC, test results must be based on scientifically valid diagnostic criteria [microchip verification].)