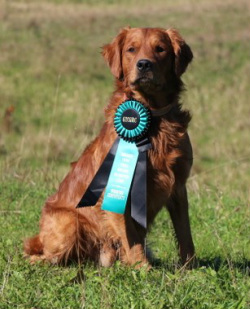 DJANGO
(the "D" is silent) ;o)


HRCH Thunderstruck Django Unchained MH25 WCX


---
ACCOMPLISHMENTS


HRCH- earned his "Hunting Retriever Champion" title (HRC/UKC) after blazing through finished tests! Look for him to be competing in next year's HRC Grand!

WCX - achieved a working certificate excellent - GRCA highest level field certificate!

MH - Conquered the master tests and earned his "Master Hunter" title (AKC) - He is now gearing up for this year's national hunt test competitions! He currently has 25+ master passes!!!

QUALIFIED FOR MASTER NATIONALS 2018

QUALIFIED FOR MASTER NATIONALS 2017 - made it to the 5th series of this year's incredibly challenging Master Nationals in October...so close!

QUALIFIED FOR MASTER NATIONALS 2016 - participated with the best of the best at this year's Master Nationals in St. Louis, MO! He finished all 6 series and made his momma proud!

DJANGO & GRIP ARE CURRENTLY THE HIGHEST RANKED MASTER HUNT TEST GOLDEN RETRIEVER MALES IN THE COUNTRY (per Retriever Results, March 2018).

CURRENTLY RANKED #3 IN THE NATION FOR ALL MASTER HUNT TEST DOGS (2018, as of 3/14/18)!!!

HAS BEEN AMONG THE HIGHEST RANKED MASTER HUNT TEST DOGS FOR THE PAST 3 YEARS!


BASIC INFO


Date Whelped: 4/30/13
Sire: Thunderstruck Like None Otter*** MH WCX
Dam: Saturday Night Goldtop Baileys Comet MH WCX
AKC No. SR77449502
UKC No. R240-862
CHIC No. 105739
Microchip: 000752ED4C

HEALTH/DNA CLEARANCES


prcd-PRA: clear (OptiGen)
GR PRA1: clear (OptiGen)
GR PRA2: clear (OptiGen)
Eye: Normal 2017 OFA GR-EYE6694/44M-VPI
Heart: Normal OFA GR-CA27507/20M/C-VPI
Thyroid: Normal OFA GR-TH3225/44M-VPI
Elbow: Normal OFA GR-EL33567M24-VPI
Hip: Excellent OFA GR-113447E24M-VPI

Django is our heavy-hitting yet laid back guy. He is so calm and goes with the flow for just about anything - but he sure does know how to turn it on...as he matured, we soon realized how much of a beast he is in the field! He has amazing water entries (not typical of goldens) and he takes excellent lines. He is a cuddle-bug at home but a hard-charger in the field.

Both of his parents compete at the master level and his pedigree is remarkable with a multitude of field trial and hunt test champions and hall of fame honorees. His sire is also showing great success in field trials and won the Open at the 2015 GRCA National Specialty! With his laser-focus, outstanding pedigree and exceptional trainability, we have no doubt Django will go far!

Django is a dark red golden with a slight curly field coat and a broad, muscular stature at approx 65 pounds.

He already has earned his MH & HRCH and is currently training and testing at the highest hunt test levels - he also competes at the national level of competitions!

STUD INFORMATION

Django is available as a stud to approved bitches. Bitches must have clearances for heart, hip, elbow, eye, prcd-PRA, and ichthyosis. Bitches also must have current brucellosis test results. Contact us for more information.