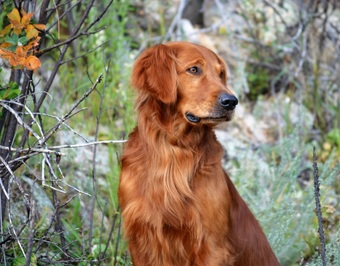 GRIP


GRHRCH UH
Thistle Rock's Get A Grip
BN MH25 QA2 WCX***


---
ACCOMPLISHMENTS



QA2 (***) - became qualified all age by earning 1st place at his very first qualifying field trial at just 2 years old! He also 1st placed his very next field trial that we completed (in 2017) and that allowed him to be awarded with the QA2 title! :o)

3x GRHRCH - earned his "Grand Hunting Retriever Champion" title (HRC/UKC) after blazing through finish tests and passing 2 Grands (he now has 3 passes)! He is the 17th golden retriever to EVER achieve this level in HRC and I couldn't be more proud of him! He currently has over 600 HRC championship points.

UH - earned his "Upland Hunter" title (HRC/UKC) after going 4 for 4 on HRC Upland tests - boy does he love upland!

MH - breezed through his master tests and earned his "Master Hunter" title (AKC) - He also passed the 2016 Master Nationals! Grip has accumulated more than 28 Master passes to date and is well on his way to the Hunt Test Hall of Fame! Grip is destined to be my first hunt test hall of fame dog!!!!

WCX - achieved the highest level GRCA field certificate!

BN - just for fun, we dabbled in obedience (without formal obedience ring training) - he loved being indoors around the confirmation dogs (some of which were in heat!) - he was like a kid in a candy store!!! He has earned his Beginner Novice obedience title.

GRAND PASSES (2016, SP 2017, FA 2017) - passed the 2016 HRC Spring Grand and the 2017 HRC Spring Grand AND the 2017 HRC Fall Grand. 2016 was his first grand to run and he amazed me! He also competed in the 2017 Spring Grand in Alabama and earned his second pass, which qualified him as the 17th golden retriever in history to be awarded the GRAND HUNTING RETRIEVER CHAMPION TITLE! He now has 3 passes - only 2 goldens in history have more passes than he does!!!

HRC 500 POINT CLUB - one of the few goldens to become part of this prestigious recognition "club"!

MASTER NATIONALS PASS (2016) - passed the 2016 AKC Master Nationals and got his first plate!

QUALIFIED FOR MASTER AMATEUR INVITATIONAL 2017 - 74th dog in the country to qualify to run with the best of the best amateur handled dogs at the first ever 2017 Master Amateur Invitational in Georgia.

MASTER NATIONALS QUALIFIED (2016, 2017, 2018) - he has qualified for Master Nationals (which requires 6 passes in a hunt test year) for the past 2 years.

GRIP & DJANGO ARE CURRENTLY THE HIGHEST RANKED MASTER HUNT TEST GOLDEN RETRIEVER MALES IN THE COUNTRY (per Retriever Results, March 2018).

GRIP IS RANKED #3 IN THE COUNTRY FOR ALL MASTER HUNT TEST RETRIEVERS (includes all eligible retriever breeds)!

Parade of Titleholders (2015) - was honored at the 2015 GRCA National Specialty at the Parade of Titleholders - he was the youngest field titled dog honored!


BASIC INFO


Date Whelped: 3/6/12
Sire: Wham Bam's Rum And Coke MH ** WCX OS
Dam: Azabache's Oregon Goldust SH
AKC No. SR72234005
UKC No. R249-761
CHIC No. 98558

HEALTH/DNA CLEARANCES


Heart: Normal OFA GR-CA26164/27M/C-VPI
Hip: Good OFA GR-111110G27M-VPI
Elbow: Normal OFA GR-EL31408M27-VPI
Thyroid: Normal OFA GR-TH2635/27M-VPI
prcd-PRA: carrier (OptiGen)
GR PRA1: Normal (OptiGen 15-7716)
GR PRA2: Normal (OptiGen 15-7716)
Eye: Normal OFA GR-EYE2615/58M-VPI (2017)

Grip is out of an impressive line of hunt test and field trial champions. He is a handsome and stylish guy - and so talented! Dedicated to his role as an athlete yet always finds a way to have fun along the way. In 2014, he achieved QAA status by earning 1st place in his very first attempt!

Grip is my dog to brag about as there is not a test that goes by where we are not complimented on both his looks and his performance - he is so impressive!!!

He has a straight flowing dark red field coat, captivating brown eyes, a tall stature and stays athletically slim, weighing about 65 pounds.

In October 2016, we competed in his first Master Nationals and I am proud to say that we passed and brought home a plate!

He ran in his first HRC Grand in Texas City in May 2016 and was one of only three golden retrievers to pass! We were the only female-handled team to pass...quite the accomplishment and a memory that I will cherish! He rounded out the incredible experience by passing the 2017 Spring Grand and became a GRHRCH dog! I believe there were only 2 female handler teams to pass and he was one of just a couple of golden retrievers to pass.

He traveled to Ohio for the 2015 Golden Retriever National Specialty. Earned a master pass, served as test dog for the WCX, earned 2nd place in beginner novice obedience (our first try at indoor events!) and was honored at the Parade of Titleholders - we had a great time!

He is currently training and competing at the highest hunt test levels and will be competing in the upcoming national hunt test competitions!!!

STUD INFORMATION

Grip is available as a stud to approved bitches. Bitches must be tested clear for prcd-PRA. Bitches must have clearances for heart, hip, elbow, eye, and ichthyosis. Bitches also must have recent brucellosis test results. Contact us for more information.