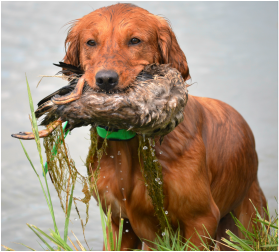 LOLA


HR Brassfire Katian Whatever Lola Wants,
Lola Gets SH WC


---
ACCOMPLISHMENTS


HR - earned her "Hunting Retriever" title (HRC/UKC) after successfully navigating the seasoned tests! She is now working on her HRCH title.

WC - achieved a working certificate - GRCA field certificate!

SH - Conquered the senior tests and earned her "Senior Hunter" title (AKC) - She is now training and running at the Master level and thus far, has 2 master passes!



---

PEDIGREE NOTABLES


Daughter of Flash (FC AFC Topbrass No Time to Paws SH CCA) - one of the top field goldens in the country right now!

BASIC INFO


Date Whelped: 4/3/14
Sire: FC AFC Topbrass No Time to Paws SH CCA
Dam: Brassfire's Golikeajetta MH
AKC No. SR82032505
UKC No. R247-123
CHIC No. 114125
Microchip: 985112004054506

HEALTH/DNA CLEARANCES


prcd-PRA: clear (OptiGen)
GR PRA1: clear (OptiGen)
GR PRA2: clear (OptiGen)
Ichthyosis: clear (OptiGen)
Eye: clear (2016 OFA GR-EYE9257/21F-VPI)
Heart: normal (OFA GR-CA29688/21F/C-VPI)
Elbow: normal (OFA GR-EL36402F24-VPI)
Hip: good (OFA GR-116430G24F-VPI)
​Thyroid: normal (OFA GR-TH3069/24F-VPI)
---
With a field champion sire and a master hunter dam, we're excited to see what Lola has in store for us! Her 3-generation pedigree proudly boasts 5 field dog hall of fame goldens, numerous FC/AFC designations and a Master National Hall of Fame dog!

Sire ("Flash") is 2013 Top Golden Male with 2 Open wins and qualified 2014 & 2015 Amateur Nationals. Flash is the first golden retriever to complete an Amateur Nationals series in 16 years (2015)!!!

Lola has a great field coat and weighs about 50 pounds. She is a medium-dark golden but not quite as dark as Grip, Gaga & Django.

Lola was a bold little pup and smart as a whip! She is such a natural team player and a talented competitor. It is remarkable how fast she catches on to new concepts. She quickly earned her first hunt test titles and we look forward to gaining more experience and earning many more accolades in the months/years to come!
BREEDING INFORMATION

She was bred mid-December 2017: a repeat breeding with Grip! :o) 12 gorgeous & healthy pups were born on 2/13/18 - all pups are spoken for.