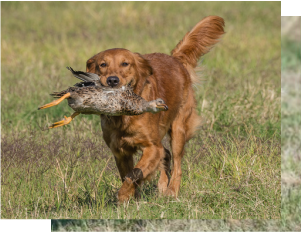 RED


HR Katian Red Light District SH WC CGC


---
ACCOMPLISHMENTS


HR - earned her "Hunting Retriever" title (HRC/UKC) after successfully navigating the seasoned tests! She is now training for the finished level!

WC - achieved a working certificate - GRCA field certificate!

SH - Conquered the senior tests and earned her "Senior Hunter" title (AKC)! She is now training for the master level!

CGC - received her "Canine Good Citizen" certificate with ease!




BASIC INFO


Date Whelped: 3/12/13
Sire: NDC NMFR RockErin Red River Ruckus*** MH OS
Dam: Sugarwoods Lady In Red JH WCX CCA
AKC No. SR76749801
UKC No. R246-990
CHIC No. 106036
​Microchip: 956000008584892

HEALTH/DNA CLEARANCES

prcd-PRA: clear (OptiGen)
GR PRA1: clear (OptiGen)
GR PRA2: clear (OptiGen)
Eye: Normal 2016 (OFA GR-EYE4952/33F-VPI)
Heart: Normal (OFA GR-CA26417/12M/C-VPI)
Elbow: Normal (OFA GR-EL33729F26-VPI)
Hip: Good (OFA GR-113625G26F-VPI)
​Thyroid: Normal (OFA GR-TH2850/25F-VPI)
Red is our little compact ball of fire! She is a tireless athlete and quite the love bug! An absolutely beautiful golden coat and small size (approximately 45 lbs).

Proven pedigree with loads of titles and great health!

She enjoys both hunt test and agility training - she lives to leap and is extremely birdy! She is a picture perfect example of a golden who loves the water - I think she may be part fish!

Red is such a unique dog - full of energy but will be the first to submit, nuzzle her muzzle into us and even wrap her little paws around us and actually hug us endearingly.

We got her when she was a year old - full of anxiety issues as she was apparently pushed too hard by a field trial pro (even bird shot lodged in her ear!) :( ...we are proud to say she has flourished with us as a hunt test dog and a household companion.

BREEDING INFORMATION

Red will likely be bred towards the end of 2017...sire to be determined. Please contact me for information on this breeding.

Karbach is a male I kept from Red's 2016 litter with Grip. He is an outstanding pup and I am excited to see what becomes of him!


---
Red's Puppies...growing up :)

Please let me know if you have pictures of your Red pup that you would like to have included here...