We are very proud to say that we train our dogs, we hunt our dogs, and we handle our dogs in hunt tests and other competitive events. Although we have nothing against the use of "pros" and have certainly enlisted their assistance from time to time, it is just so rewarding to know that our dogs are the result of our hard work, time and dedication in selecting from good breeding stock, training regularly and putting the effort into helping them be the wonderful dogs they are! We are fortunate that we work from home so we can devote the time they need to flourish. We do not own kennel dogs - so we must raise our pus with balance in mind, much like a typical parent raises a child - love them, teach them, discipline them and hope they have an enjoyable life and a successful future!

We have raised our dogs with a balance of leadership and reinforcement. We mostly utilize positive training but do recognize the need for reinforcement by use of training aids such as e-collars, etc. We are in the minority in that we do not believe that force-fetch is the "only" way to a good retriever and not all of our dogs have been force-fetched - not because we are opposed to it...simply because we felt they didn't need it. Our dogs are trained with these priorities: (1) establish a bond with love; (2) provide leadership/authority and consistency; (3) encourage positive behaviors; (4) give them the time and attention they deserve in order to produce the dogs we want; (5) focus on clear communication.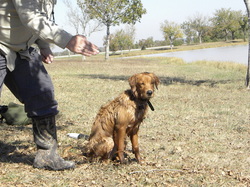 1. Relationship based on LOVE and RESPECT (not fear)

2. Show them who is boss - be the LEADer of your pack

3. TEACH & guide them in the right direction

4. Spend quality TIME to produce a quality dog

5. COMMUNICATE clearly and keep it simple



---
Interested in training with us?
Obedience...Gun Dog...Hunting Dog...Competition Training

While I love working my own dogs, there are times when professional outside training has been advantageous for me and my goldens. There are very few pro-trainers I will trust with my goldens. Brooke & Bucko Van de Brake (in Washington state), Tim & Lauren Springer (in Minnesota), Mark Madore (in north Texas) and Tim Cramer (in central Texas) are the only pros I've personally used (although there are a few others I recommend and would use if needed). Tim Cramer started as a good friend and he is the kind soul who took me, my daughter and all of my dogs in after the hurricane wreaked havoc in our lives.. He has trained many of my personal dogs as well as puppies from litters I have bred. Since the hurricane, we have been living on Tim's property and I have been helping him with the admin side of his business. I have been fortunate to see him with all of his dogs working at all levels and could not be more pleased with the devotion, care, knowledge and dedication he puts forth to make each and every dog a success at his kennel. I highly recommend him. Working hand in hand with Top Notch Retrievers (Tim's kennel), we are pleased to offer formal training options for our Katian puppies at a discounted rate. Your pup will get the love and attention from me and the formal training from Tim...it's a win-win situation!.

Retriever 101
We host regular group get-togethers - called Retriever 101. This was created by one of our retriever clubs (Colorado River Retriever Club) and is open to anyone with retrievers. We primarily focus on the beginning stages of hunt test training (training tips, what to expect at hunt tests, mock hunt tests, etc.) We welcome anyone who would like to learn more about the club, to visit their website:
www.crrcinc.org
Boarding
We offer boarding at our kennel for $30/night per run. In-home boarding is available for $50/night.

I am pleased to offer boarding for my Katian extended family (Katian pups and any "sibling" dogs) at a discounted rate of $20/night per dog.

We also offer day training for $25/day during your pup's boarding stay.

BIRDS AVAILABLE
We sometimes have training birds available fr sale. If interested, please let us know.

Types of birds we have at various times include:
ducks (including mallards), quail, pheasant, chukar, pigeon, guinea, etc.

We sometimes even have fresh quail, duck and chicken eggs too!


---