Puppies !!!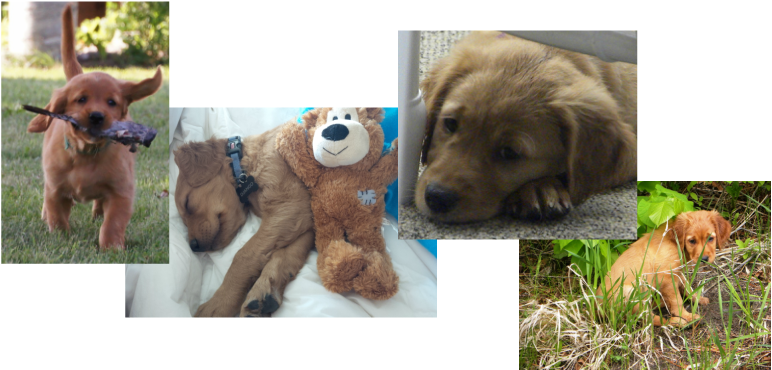 ~ Check back often for updates on our breedings ~
---
1 Male puppy out of Red/Django available at this time (due to a reservation postponement for personal reasons).


I have several planned breedings this year. We typically pre-sell all pups well before pups arrive so if you are interested in reserving a puppy spot, please don't hesitate to contact us right away!

PUPPY RESERVATION INFO
I only accept 3 male reservations and 3 female reservations (including breeder picks) for each planned litter. You have a reserved spot only when your application has been approved AND your deposit has been received.

WHAT IF THERE ARE MORE PUPS THAN RESERVATIONS?
If you are interested in a litter in which all reservations have been filled, I can put you on our "wait list" (in case there are more than 6 pups whelped). To be put on our wait list, you must have an approved application on file.

WHAT HAPPENS IF THERE ARE LESS PUPS THAN RESERVATIONS?
In the event less than 6 pups are available (3 male/3 female), a person with a pup reservation has the option to either switch to opposite sex (if available pups), transfer deposit to a future litter of your choice, or a full refund of your deposit.


---
PLANNED LITTERS...

Summer 2017: Red x Django (puppies expected 7/31/17)

Later in 2017 or early 2018: Lola x Grip (repeat breeding)

Later in 2017: Cica x Django (just waiting for Cica to come into season)

Early 2018: Willow x ? (pending Willow's health clearances which will be done in October)


---
If you're interested in a golden retriever puppy (working-bred: competition/hunting/pet), let us know so we can forward you our puppy application (or you can download the application below). We regularly have puppies and/or started dogs available (or know someone who does) - so do not be hesitate to contact us.

Advance deposits are strongly encouraged as we only accept a limited number of deposits per litter and interest in quality goldens greatly outweighs the number of good goldens available!

---
OUR BREEDING PHILOSOPHY

When we welcomed our first golden, we never considered breeding! But after becoming fully-immersed in this world of working goldens and realizing just how small the pool of traditional "field" goldens is, we are committing ourselves to furthering this wonderful breed. Both of us have a background in law, which provides us the need to be thorough and learn everything we can about our passions - we are quite the perfectionists! We have spent countless hours researching the history, health, standards, qualities, etc. and strive to be an asset to the breed in whatever way we can. We also spend all day with our dogs and have a great understanding of why goldens provide the perfect balance with regard to hunting and household companionship.
What type of homes do our puppies go to?

Let's face it, there are a number of field golden breeders who want all of their pups to go to competition homes (this is of benefit to them as every title that a pup receives, benefits their sire/dam too). Although we love running competitions with our dogs, we do not have our dogs for titles. We encourage all of our puppy owners to consider competitions because the dogs thoroughly enjoy them! It is a source of pride to see your progeny excel (just as with our children) - but we simply want our pups to have good lives with good families. That's why we are okay with our pups going to ACTIVE pet homes. Most of our pups go to dual purpose homes (families who want a well-behaved house pet as well as a hunting dog and/or a dog they can enjoy some competitive events with). We will not place our pups in homes where they will spend most of their time as a dust mop - these dogs live to work and are smart and energetic...they really need families who can appreciate and cultivate their natural talents (whether it be hunting, hunt tests, agility, obedience, active playtime/outdoor activities, etc.).

Our puppies receive:

Our puppies are very busy during their first 7 weeks of life. Here are examples of what each receives:
- Dew claws removed
- Vet checked at approx. 3 days and 6 weeks
- Daily weight checks for first 3 weeks, then weekly
- 1st set of shots
- Several worming treatments
- Nails trimmed regularly & bathed as needed
- Early neurological stimulation
- Socialization
- Transitioned to premium large breed puppy kibble
- Exposure training (noises, terrain changes, water, gun shot, obstacles, grooming, crates, cats, collar/leash, etc.)
- Volhard puppy aptitude test (modified)
- Microchip implanted and number registered (for life) with new owner information on AKC ReUnite
- Every puppy goes home with a 26-month health guarantee/contract and registration paperwork (AKC &/or UKC)
- Lifetime support and commitment from your breeder ;o)

How much does a puppy cost?

The cost of owning any dog is expensive. If you are a first time dog owner the cost of owning a pup the first year will exceed $2,000 alone. Note I said cost of owning, that does not include the purchase price of the pup. We'll get to that later.

The typical "Healthy" Golden will live from 10-15 years and cost you somewhere in the neighborhood of $15,000 to $20,000 over the course of its life. That price includes feeding, shelter, basic O.B. classes, equipment, veterinary care, and fixing the occasional bump and scrape. Note this cost is for a "Normal", "Healthy" dog.

If you get one with allergies, joint problems, eye problems, or other genetic disorders that price of ownership will skyrocket two or three fold. The lesson to remember is don't scrimp on the purchase price of the pup because it will come back to bite you in the pocketbook later.

The purchase price of a pup can start at $1 and go to $3,000 or more. In most cases you get what you pay for. Puppies from a back yard breeder may sell from $1 to as much as $1,000. Puppies from pet shops are the real rip off. Low quality, no health clearances, no guarantee or warranty to speak of, and an excessively high price tag. You are paying a premium price for an "instant" puppy.

The purchase price for puppies from a serious reputable breeder will start about $1,500 and go up from there. This type of breeder has done their homework, obtained health clearances, and offers a guarantee on the dogs they produce. They are your best value over the long haul. My puppies usually range in price from $1,800 to $2,600 depending on the breeding.

Do most folks need a $3,000 puppy? Of course not! Most puppies in that price range are really competition quality and more dog than most people need. Most people will be best served with a pup from the $1,500 to $2,500 price range. In that range you should get a pup from sound healthy stock, a written warranty, and support from a knowledgeable breeder for the life of the dog. That is money well spent when you consider the cost of ownership for the life of the dog.
Do we ship puppies?

While we strongly encourage all new owners to personally pick up their puppy so they can visit with us - we understand that this is not always practical - particularly if you live 1,000 miles away! When this is the case, we recommend shipping the puppy to their new home by air. Air travel for the puppies varies in price but on average, you can expect the total shipping costs (airfare, crate, vet health certificate, etc.) to add an additional $350-500. I try to send the pups on direct flights, when possible, but in any case flights are carefully selected to minimize the pup's total travel time. The time spent traveling by air is much less than ground and more secure/safe - the only time I recommend long-distance ground traveling with a young pup is when you are personally doing the traveling or someone you really trust is transporting the pup (a young pup without its full series of puppy vaccines is susceptible to diseases - so care must be taken not to stop for potty breaks where other dogs commonly relieve themselves).

Photos of our puppies: